Thank God That Mets' Season Is Over
70-92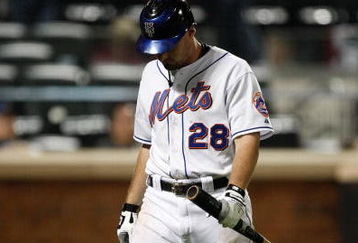 Who had the Mets losing 90 games this season? Anyone? Sports Illustrated picked them to WIN THE WORLD SERIES, so I'm guessing they didn't, and PECOTA had them winning 90 games. Yep, I'm pretty sure the Vegas line would have been set at 100-1 for such an occurrence before the season started. Yet somehow, someway, the Mets managed to crush all their fans again, only this season it wasn't on the very last day.
Nope, this season — in contrast to the last two — was a long, slow painful burn, in which a feeling of dread hung over the team for almost the entire season. Perhaps my thoughts are clouded by my father's incessant pessimistic comments, but I'm not sure I ever believed this team was going anywhere, even before being totally inundated with injuries. There were just too many question marks, and none of them turned out the way the Mets wanted them to. Not ONE.
Before the season, I wrote this blog post, where I listed the players I looked forward to watching play, and also the ones I dreaded. I have to say I'm proud of my "dread" section. The only guy who had a decent season was Luis Castillo, and even so, his OPS was still below league average (97 OPS+) and his fielding sucked. Not to mention he was responsible for the single most embarrassing moment of the Mets' season. But that's what qualifies for a decent season on the Mets this year. He was the sixth-most valuable guy on the team according to Fangraphs (1.5 WAR). Wow.
Shall I elaborate on the three other guys on that "dread" list? Carlos Delgado was only able to play 26 games due to a hip problem and subsequent surgery that he should have taken care of during the OFFSEASON. Oliver Perez only started 14 games and totally fucking sucked to the tune of a 6.82 ERA (and better pitching metrics don't help him out either). He was a below replacement pitcher who got paid $12 million dollars. Last, but not least, Francisco Rodriguez continued the downward track of his career that I talked about in this post. His final xFIP for 2009: 4.18. And he's getting paid $10 million a year for a couple of more years. I hate you so much, Omar Minaya.
As for the guys I was eager to watch play, none of them really turned in a good season, either. So I guess the "dread" section was bound to be right no matter who I selected. Goddamn it. Let's have some fun and go down the list.
Daniel Murphy – Made a fool of himself in LF before mercifully being moved to 1B and finding his niche there. Too bad his OBP is almost as bad as Jeff Francoeur's.
Johan Santana – After a dominating first month, came down to earth a bit before shutting down his season to get surgery on his elbow. He needs to come back strong next year, or else I'm going to fucking cry.
David Wright - Lost almost all his power, while managing to strike out more. His throwing troubles also seem to get worse every year.
J.J. Putz – What the fuck even happened to him? I can't be bothered to talk about this. Fucking Mets medical staff blows. You're supposed to CHECK the guy before you approve the fucking trade.
Jose Reyes – The straw that broke the camel's back, as it were. The Mets were still chugging along without Delgado and Perez, but replacing Reyes with Alex Cora and other assorted Hispanics was never going to work for an entire season. And now we've got Jerry Manuel talking about him possibly being a step or two slower when he comes back. Fuck everything.
Mike Pelfrey – While his ERA skyrocketed over 5.00, his FIP actually didn't change much from last year and his xFIP actually meant down. It only went down to 4.51, but hey, I'll take anything I can get at this point. Still, a very disappointing season.
Ryan Church – Because of him the Mets now have Jeff Francoeur, and they're going to end up giving Francoeur a three-year contract worth $25 million. Just watch. For this reason, I now hate Ryan Church. He totally got fucked over by Jerry Manuel the entire team he was with the team, though.
John Maine – Would possibly be the second-best pitcher on the team if he weren't such a goddamn pussy.
Fernando Martinez – Looks at least one full year away from the majors, judging by how totally overmatched he was at the plate. I'd just like to see him stay healthy for one full year.
Carlos Beltran – Was on his way to a career year before some fucking bone bruise on his knee that might mean he'll never be the same player again. God, I hate my life.
So yeah, I was looking forward to all those guys and they basically all let me down. Every single one. Holy shit. More proof that the Mets season was totally embarrassing: Angel Pagan was the bright spot. Kill me.
One last thing to wrap up this post, and also wrap up the use of batting average as any sort of barometer for offensive production.
The 2009 Mets: 1st in batting average, 11th in runs scored (in the NL)
Related posts: