Oh Yeah, That's Why I Watch the Mets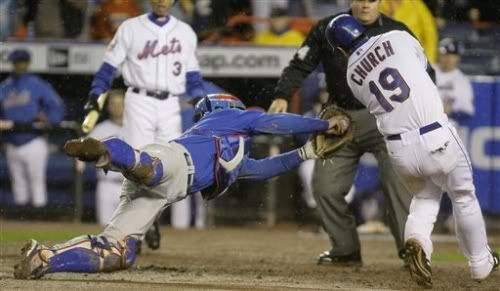 Regular season baseball doesn't get much more exciting than this. I feel the obligation to post every night until the end of the season at this point. Every Mets game is gut-wrenching insanity. Not only that, there were also the Brewers and Twins games tonight — where both of those teams won in walkoff fashion in addition to the Mets. The wild-card is obviously the only good idea Bud Selig has ever had.
I said all day today at work — after sleeping off the effect of last night — that the Mets have seemingly always bounced back from their multitude of "devastating" losses. But after Pedro came out, and Rincon gave up a three-run HR on the FIRST PITCH HE THREW, I was all but done. Pedro looked ready to throw him to the ground like he was Don Zimmer. A three-run deficit with 3 innings to go? No way the Mets were going to storm back.
Yet they did. Two nights ago the Mets benefitted from a Johan Santana magic trick; tonight, Ryan Church pulled off an illusion of his own. Somehow he convinced the umpire he was still in the basepath as he ran around the catcher. I've never truly understood where the baseline ends, but it definitely looked debatable tonight. Maybe the shock of it is still sinking in. The throw beat Church by 20 feet, yet somehow he scored to tie the game. You just don't get this ridiculous shit anywhere else.
Except tonight. The Brewers won on a walkoff Grand Slam, and the Twins came back from a 6-4 deficit in the last two innings to win in extras, sweeping their series with the White Sox and taking the lead in the AL Central. Ozzie Guillen is going to have to choke a bitch.
On the negative side, David Wright struck out AGAIN in the 9th inning. But this time, the Cubs decided to pitch to Beltran instead of Church (as he had gone 3-3 up to that point). As his hard-hit grounder went off the glove of the Cubs' first baseman, I couldn't even get excited. I was numb. I had already been drained of all emotion. Luckily, I'll most likely have until Saturday to regain my strength. And hopefully, I'll be able to watch a back-to-back doubleheader in my office's suite with a bunch of free booze and food. Thanks, boss.
Related posts: