That Division Lead Sure Evaporated Quickly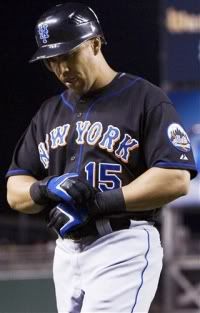 The Mets are now a 1/2 game back of the Phillies. I'm pretty sure they were 3 1/2 games ahead just 6 days ago. That's an even quicker collapse than last year, comparatively. At this rate, they would've blown that 7 game lead in only a dozen games instead of 17.
Fortunately, they do have 12 games left this time. The season isn't over. There's still a chance that somehow the Mets will figure out how to beat the Nationals in the two weeks of the season. Maybe Ryan Howard will stop hitting home runs. Maybe the Brewers will continue their best impression of the 2007 Mets. And maybe I'll actually study tomorrow instead of watching the Mets lose again.
The saddest part about this is that Mets fans have already lost heart (at least when it comes to baseball, they still love stacking cups). ItI'm a miserable, pessimistic bastard in almost every aspect of life, but apparently I'm not alone in thinking the Mets are destined for another October at home. During tonight's SNY broadcast, the text poll was the following:
Where will the Mets finish?
Division Winner 32%
Wild Card Winner 12%
Out of Playoffs 56%
That's faith right there. If the Mets don't make the playoffs, they won't have to demolish Shea Stadium — fans will burn it to the ground.
Related posts: