Forget Political Conventions, FOOTBALL Starts Today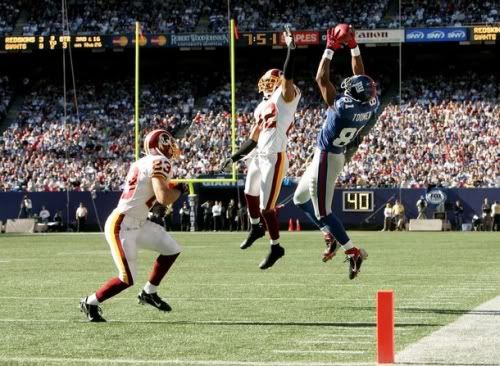 While all the Obama-sheep, hardcore Evangelicals, old war dudes who love McCain (like my grandpa), people who think they're intelligent — and maybe some actual smart people — pay attention to politicians giving empty speeches and false promises, I eagerly await the return of arguably the greatest organization in America – the NFL. Yes, I'm a bigger baseball fan, but no can argue that the NFL is even more ingrained in American culture than our "national pastime".
The new national pastime is sitting on your ass for an entire Sunday watching huge dudes who would otherwise have longer lifespans smash into each other trying to reach opposite end zones. And also making your Monday somewhat palatable by allowing you to watch the same thing once again after that awful beginning to the work week.
But to start off the season, there's a Redskins-Giants game on a Thursday. Football on ladies night? Worlds are colliding. I don't know how I'm going to handle it. I'll just want to sit there eating my popcorn, drinking my beer, but I'll have chicks all up in my shit. Oh wait, that's not right, they won't be bothering me at all.
But while tonight's game is the opener, Sunday's Jets-Dolphins game is the season opener for myself. Favre vs. Pennington. I'm not really a betting man, but I'll set some over/unders.
Favre INTs – 2
Pennington passes over 10 yards – 2.5
Amount of beers I drink – 3.5
Times Favre's age is mentioned – 4.5
Pennington screen passes – 10
Times I pretend to have insight into football – 5.5
So Football is back. Baseball is reaching its final stretch. The U.S. Open is ongoing. While summer may be over, I have more than enough sports to keep me entertained.
Related posts: