The Greatest Tennis Match in the History of the Known Universe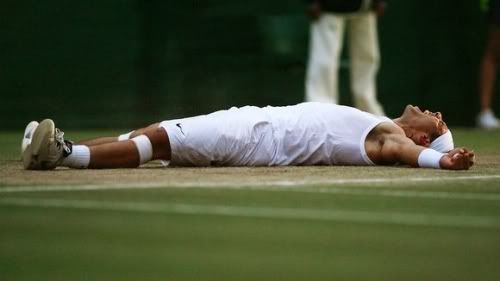 And I'm not even sure if that's hyperbole. The Wimbledon final between Roger Federer and Rafael Nadal was that absolutely insane. It even achieved the feat of turning John McEnroe into a pathetic fanboy. I feel obligated to write this post — even though it's so late — since my post about LAST YEAR'S Wimbledon final is getting a shitload of hits. But the match deserves a massive post, anyway. It took up my entire Sunday, so the least I can do is write a bunch of words only a few people will read.
I woke up a little later than I wanted to — 10 am — but the match started a bit late, so I only missed 3 games. Amazingly, Nadal had already broken Federer. So I plopped myself in my computer chair, in front of my laptop and SDTV, and threw up a post about that fact on the GAF Wimbledon thread. Little did I know I'd be sitting there for the next SIX AND A HALF HOURS.
I was posting in the GAF thread and talking in IRC the entire match. It was the closest I could get to watching the match with other people. Every great rally or incredible shot was greeted with a chorus of "HOLY SHIT!"s and "HOW THE FUCK?"s. It didn't really get crazy until the second set, though. Due to both Federer playing one of his almost-signature subpar first sets and Americans slowly waking up.
As the second set started, Federer activated Federbot mode, and he quickly broke Nadal. I was pretty worried that Nadal was in trouble, but then the unimaginable happened. Federer blew a 4-1 set lead by getting broken TWICE. In the same set. At Wimbledon. He only had his serve broken twice in the REST OF THE TOURNAMENT. With a two-set lead in his capri pants pocket, it looked like Nadal was on his way to another straight-set final win over Federer, a la the French Open. It looked so over that this NYT writer that was covering the match went and watched Hancock instead. That guy shouldn't be allowed to write another sports article ever again. Go review shitty Will Smith blockbusters, asshole. But my growing hate of sportswriters, commentators, and announcers is best left for another post. I wasn't paid to watch the match, yet I continued sitting here because I knew I was watching history: Federer losing his bid to win his 6th straight Wimbledon, and the balance of power in tennis shifting in one momentous occasion.
But Federer didn't roll over like at the French Open. This was his tournament — he wasn't going to let some Spanish kid running around the court like a dog playing fetch take his crown. So he decided to make it rain in the middle of the third set. Yes, I'm fairly certain Federer can control the weather. When they came back to play the rest of the set, Federer seemed refreshed. The hour delay had no doubt neutralized Nadal's momentum, and I was pissed. As the third set went to a tiebreak, I knew there was no way Nadal could win it, and he unsurprisingly gave it up easily. We had a championship match on our hands.
By this time, my stomach was already a wreck, and it only got worse until the match ended 3 hours later. I haven't pulled for a player like I do with Nadal since Pete Sampras was still playing. I wanted to see Nadal beat Federer on the brink of history, like seeing the Giants ruin the Patriots' perfect season on the very last drive of the Super Bowl.
I'm not even going to bother trying to explain or describe most of the fourth set, since I really don't remember much. I just know there were no breaks, and they went to another tiebreaker. I figured Federer had it wrapped up once again, but Nadal jumped out to a big 5-2 lead with the opportunity to serve the match out — but then he double-faulted. Next thing he knew, Federer was up 6-5. Nadal soon managed to have two match points, though — but both times Federer countered with obscene shots. In between, Nadal had one of his own. Like I mentioned, there's no point to trying to describe it in words. I just remember wanting to puke. Especially when the tiebreak ended with Federer winning yet again.
The crowd, the momentum, and history were all on Federer's side. Nadal had blown two championship points. It was getting harder and harder to imagine the 22-year-old Spainard pulling off the impossible. It was looking like instead of the Super Bowl upset, it would end up with me wanting to bite my tongue off in anger, like when I watched the ending to Heat.
During the fifth set, it rained again. It looked like the match would spill over into the next day, since the British apparently don't know how to build ROOFS OR LIGHTS. I was flipping out, imagining the possibility of not being able to watch the end of possibly the greatest tennis match ever live. But after only a half-hour, they were back on the court, even if it was getting dark. This time, the rain delay helped Nadal. It took until the 15th game of the set, but Nadal finally broke Federer to go up 8-7, to have the opportunity to serve out the match. In case you didn't know, there is no tiebreak in the 5th set at Wimbledon. At this point, both players said they could barely see. Federer looked exhausted. He was done. Nadal served it out, ending the match after 4 hours and 48 minutes. Pete Sampras was masturbating furiously at home.
6-4, 6-4, 6-7 (5), 6-7 (8), 9-7
Wimbledon Champion: Rafael Nadal
The first time Federer had lost on grass since 2002. His 65-match grass court streak ended. His 40-match winning streak at Wimbledon over, one short of Bjorn Borg's record, and left forever tied with Borg with five straight Wimbledon titles. And Nadal becoming the first man since Borg in 1980 to win the French Open and Wimbledon in the same year.
Now, as the tournament started, I posted this:
Wimbledon 2008. If Federer wins: He's still got it, greatest player ever, Sampras am fucked. If Federer loses: His reign at the top is over, he might never break Sampras' record, Nadal owns his soul. I'm going with the latter.
I am awesome. And I stand by it. Federer still has more than a good chance to break Sampras' record, but it doesn't seem to be the foregone conclusion it was before this year. Breaking Sampras' record of seven Wimbledon titles also looks a lot less likely. He's going to be 27 in less than a month. His prime is over, the era of the Swiss android winning 3 out of 4 Grand Slams every year is past. And Nadal quite obviously owns his soul. Federer was despondent after the match, on the verge of tears when talking to John McEnroe in the post-match interview — prompting McEnroe to hug him. A hilarious moment, albeit not for Federer. Nadal has totally broken him in the past two Grand Slams. First, by embarrassing him at the French, and now by taking away the championship that he cares about most.
Now, Federer and Nadal are both still head-and-shoulders above the rest of tennis, but Novak Djokovic can cement his status to be mentioned in the same breath as them if he manages to win the U.S. Open. This has to be the most important U.S. Open in years. People are going to expect Nadal to win, even though he hasn't quite mastered hard courts yet. And Federer has to prove that he's still the best, as his perch on top of the ATP rankings is teetering. Meanwhile, Djokovic is the guy who actually won the last hard court Grand Slam at the Australian Open. But that almost deserves an asterisk, as Federer had mono at the time. I hear mono can have lingering effects; maybe Federer still isn't 100%, who knows. I just know I'm looking forward to the U.S. Open more than any other sporting event right now (especially since both the Mets and Yankees don't look like they're going to make the playoffs).
Thank you Rafael Nadal, for making tennis exciting again. The entire nation of Spain must be partying 24/7 between you and Euro 08.
Related posts: