I'm Going to Watch Baseball All Night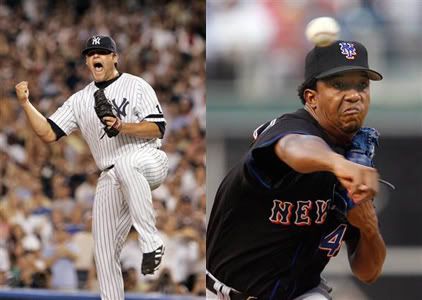 The Yankee game, then the Met game. Joba, then Pedro. These are two big starts — not as big as some might think — but they could set the tone until each pitcher's next start.
A bad start from Joba will have Yankee fans calling into WFAN for the rest of the week talking about how dumb a decision it was to move Joba out of his 8th inning slot. Hell, whenever Farnsworth blows an 8th inning, there's going to be outcry as well. It's going to be unbearable. And if he does well, then Hank Steinbrenner will say what a genius he is. Whoever wins, we lose.
A bad start from Pedro won't create as big a spectacle, but it definitely wouldn't help. Especially coming off another godawful start by Oliver Perez, a.k.a. the most frustrating and infuriating pitcher I have ever seen. Five or six decent innings out of Pedro is all I'm asking for. Three or four runs. That's not even decent, but he's coming off an injury, and it should be better than whatever Barry Zito manages. The Mets better light his hippie ass up.
So excuse me while I sit my sick self on the couch for the next 6 hours or so.
Related posts: