I Should Write a Pessimistic Post Before Every Mets-Braves Series
That didn't turn out so bad. Once again, the Mets have proved they can beat their division rivals. Of course, both of these teams were missing arguably their best players at the time, and Tim Hudson and John Smoltz looked broken in each of their starts…but you have to take what you can! Carlos Delgado hit 2 HRs in one game! I bet you didn't see that coming. Maybe he won't be completely worthless this year. Unfortunately, Aaron Heilman still sucks.
The Mets probably should've SWEPT the series, considering Tim McClelland all but gave the Mets the series opener, when he chose to fuck with Jair Jurrjens after he showed him up on a close call. Four straight walks, the last three with the bases loaded. I think Sunday was the only time the Mets actually scored runs by hitting well. They had ONE good inning on Saturday.
I still don't know what to make of the team — I bet now they'll lose a couple of games in a row to the Pirates. Oh, and Moises Alou might be hurt again before he has even managed to get back in the lineup. AWESOME signing there. The guy was hurt coming out of the womb, at 124 years old it's only going to be 5x worse.
Meanwhile, considering the other New York team (usually a reference to the Mets), Wang is pretty good. (lol) No really, he's been pretty great this year. He's like the total opposite of Barry Zito. I just complained about the Alou signing, but wow. Zito is now 0-6 with a 7.53 ERA. I bet when I check my Yahoo! fantasy league tomorrow, there'll be a notice saying "Barry Zito has been dropped by 23674 teams." The Giants wish they could do the same.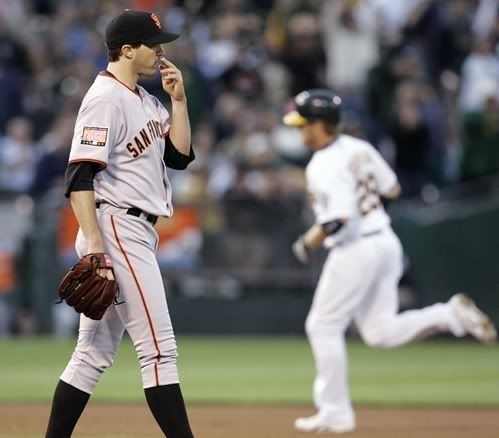 Related posts: