Tom Brady's Deal With The Devil Has Obviously Expired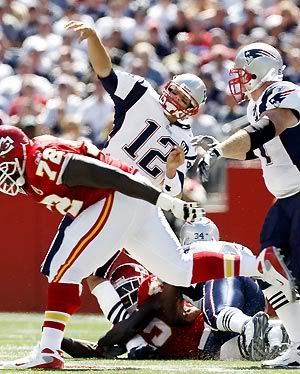 Out for the season. Probably.
It seems that Brady's soul was only good for a couple of years of success. The deal ran out just a bit before Super Bowl XLII was over. Brady probably should've gotten a refund. Instead, he got a torn ACL or whatever the hell happened to his knee at the moment captured above. It'll be interesting to see how quickly Giselle dumps his immobile ass. 
A few months ago if you told me Brett Favre would be a Jet and Tom Brady would be out for the season, I would've broken a bottle over your head for teasing me like that. That's something a Jets fan only dreams of. 
But this is really happening. Next week, the Jets will face the Patriots, with a matchup of Favre vs. Cassel. Tied for first place after Week 1! And Favre didn't throw an INT! The only thing that could make this better is Curtis Martin entering a time machine and getting back on the Jets.
Hopefully the Jets will be able to keep this up, to at least keep me entertained and somewhat happy while I watch the Mets once again choke in September.
Related posts: