JOHAN SANTANA WOOOOOOOOOO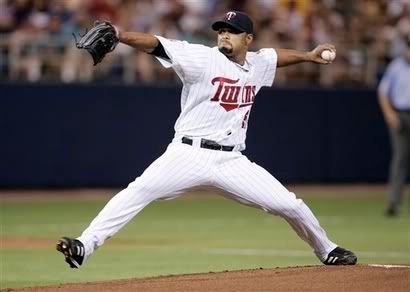 I still can't believe this trade.
From ESPN:
In return for Santana, the Twins would receive center fielder Carlos Gomez and pitchers Phil Humber, Kevin Mulvey and Deolis Guerra — a package which some talent evaluators believe could be the fourth-best offer that Minnesota received during this process.
Excuse me while I laugh at the joke that is Twins management. (You should too, by the way.)
The amount of fail in this trade is immense. The very definition of EPIC FAIL. The Twins really must be run by a bunch of monkeys. First, they decide to build an open-air stadium in Minnesota, and now they push the Red Sox and Yankees so far that both those teams dropped out, leaving the Mets pitiful offer as the only option. Either that, or they *really like* Carlos Gomez. Just wow. I almost feel bad and hope that one of the pitchers turns out to be good. This of course assuming that Santana doesn't break down. I will cry if that happens.
But I will probably hang myself if the Mets somehow botch the contract negotiations. They have 72 hours to agree on terms with Santana. There's no way Omar will screw that up, though. I don't want to contemplate upon the possibility. It's just not possible. It'd be worse than finding Allison Stokke naked on my bed, but subsequently finding out that there's a force field around her. Cocktease total.
I think this makes the Mets the team to beat in the NL, but they were the team to beat last year too, and we all know how that turned out. I still don't see them being able to compete with the top of the AL. If Delgado doesn't completely suck it up again, and the bullpen learns to get batters out, maybe they've got a chance. And obviously Pedro is a huge if. Him coming back like the Pedro of Old would definitely put them on the road to the World Series, and give them two lights-out starters. But the chances of that happening are probably like 25%.
For now, I will celebrate a great trade. One that almost makes up for the Kazmir trade of a few years ago. But not really. At all. God, that trade was fucking horrible.
Related posts: