MLB Playoffs Lightning Post #2
- Roger Clemens should never step foot on a Major League mound ever again. Even if the Yankees somehow come back and win this series, he shouldn't even be on the ALCS roster. I don't care how much the Yankees wasted on him.
- A-Rod is hitting for a higher average than Derek Jeter so far this postseason. The over/under for newspaper articles talking about that is 0.
- The Mets can take solace in one fact after their massive collapse at the hands of the Phillies. They won as the same amount of postseason games.
- George Steinbrenner needs to be fired. From life.
- Turns out Lou Pinella did save Carlos Zambrano until next season.
- Bob Sheppard wasn't at Yankee Stadium tonight. That has to be the first time he missed a Yankee playoff game in 50 games. He won't be the PA announcer tomorrow either. I think Tony Gwynn ate him.
- Whichever team faces the Red Sox in the ALCS has to deal with Ortiz and Manny both hitting very, very well. I think Manny's last two home runs have traveled a combined quarter-mile.
- The Colorado Rockies. Are in. The NLCS. God is clearly on their side.
- The Cubs will be able to celebrate the 100th anniversary of their last World Series win next season.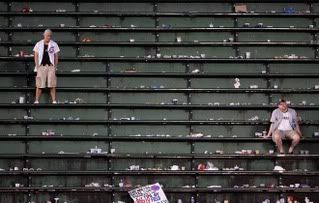 - Three sweeps. And the Rockies and D-Backs in the NLCS. TBS must be PISSED.
Related posts: