Will Leitch Leaves Deadspin, Site Stays Exactly the Same
…except for less Cardinals, Barbaro (he'd still find a way to work some in), and Carl Monday references.
Now, I'm definitely not what you'd call a Deadspinner, since I don't have a commenting account; I like to think of myself as a fan. It's definitely the most entertaining sports blog on the internet. But that fact is due to the commenters, not Leitch. And I know Leitch realizes this, as he sells out to the man by departing for New York Magazine.
Leitch sits around in his underwear all day, throwing up half-assed posts — his next masturbation session only a few clicks away — leaving his followers to pick the slack by being totally awesome. As I recently mentioned, I can barely manage reading comments without losing control. I think Leitch only makes me laugh when he posts pictures of himself. Who would've thought a guy with emo bangs would help fuel a sports fan revolution?
But if it's the commenters that actually supply the humor, Leitch is the ringleader. He provided the venue, and helped spawn and fuel other great sports blogs. And for that I, along with thousands of sports fans across the country, am grateful. I'm also grateful for him linking my blog a year ago — not because it helped fuel a massive new influx of readers or helped me get some ad money — but because I feel like I'm a tiny part of Deadspin history.
In closing, I highly recommend checking out Deadspin and searching for "Will Leitch Blogebrity Roast," as the roast last week was one of the most epic internet events ever.
My highlights would have to be:
A Special Message from Ron Zook
And of course: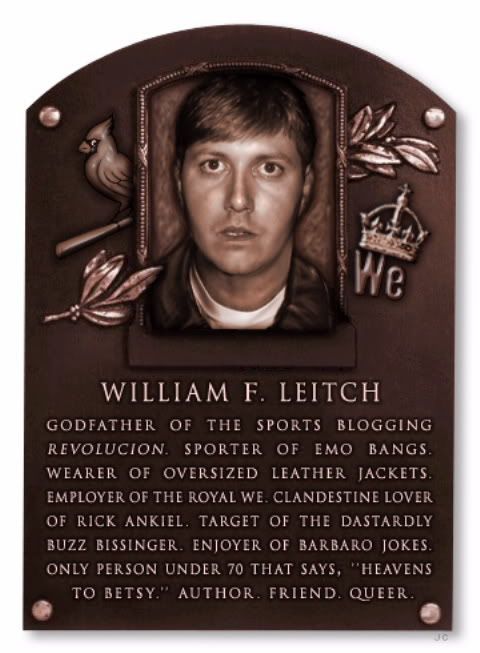 No related posts.