There is Nothing Better Than Playoff Baseball
Two walk-off wins — one on a home run that went about 550 feet, and one a bases-loaded line-drive single. One game was affected by a Canadian Soldier (bugs!) invasion, the other by a fan taking a pop-up out of a player's glove. Only in baseball.
The Yankees-Indians Game 2 showdown featured a classic pitcher's duel. Up the 8th inning, the only mistake that had been made was Fausto Carmona throwing a slider to Melky Cabrera. Andy Pettitte showed why the Yankees brought him back. Honestly, he never should've been allowed to leave. He pitched out of a leadoff runner reaching base almost every inning until Joba Chamberlain came in with an out in the 7th, who subsequently finished up the inning easily. It looked like Cabrera's solo HR might hold up. Then the bugs came.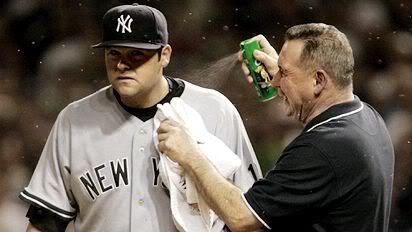 They first showed up during Carmona's 8th inning work, but he didn't seem all that phased by them. By the bottom of the inning, however, the bugs were in full-out assault mode. It was like God sent down a plague to sabotage Joba. I would figure a Native American would be in tune with nature or some crap like that, but the bugs turned out to be the toughest opponent Joba had faced all year. At one point, it looked like he had 30 bugs making a home on his neck, with another 50 on his hat. It was disgusting. I can only imagine what it looked like HD. He was waving his hand, stepping off the mound…and throwing wild pitches. On his second wild pitch of the inning, the Indians tied up the score 1-1.
Seeing that insane turn of events, I have to agree with this Busted Tees shirt.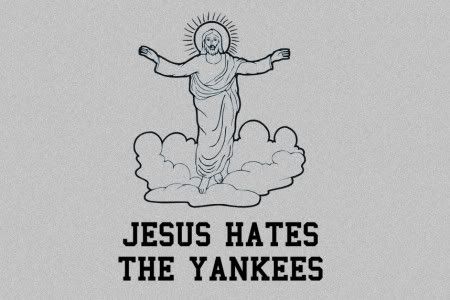 Carmona continued not to be phased by the bugs and finished up 9 innings of 3-hit ball. An incredible performance. Rivera came in and tossed a couple of tense innings, but as one could have predicted, he was as calm as always, acting as if the bugs weren't there. The problem for the Yankees was after Rivera. Luis Vizcaino came in blew the game pretty handily in the 11th inning. The Yankees are in trouble.
Obligatory side note: A-Rod was 0-4.
The sequel was a Red Sox-Angels Game 2 that also turned out to be a low-scoring, close game. Not quite as masterfully pitched, but Fenway isn't exactly a pitcher's park. I missed the beginning of the game where most of the scoring occurred due to the length of the Yankees-Indians game, but I was there for the rest. The Indians may have benefited from some divine intervention, but the Red Sox got some help from a real fan. In the fifth, Angels catcher Jeff Mathis reached into the stands for a fly ball only to have it snatched basically right out of his glove by a young Red Sox fan. It would've been the second out, so the Red Sox were able to score from a sacrifice fly later in the inning and tie the game at 3-3. The kid got high-fives as he walked up the stairs, one of the people being Stephen King. He will no doubt be the most popular kid in school. I wonder if his teachers will ask for his autograph.
The score remained 3-3 until the bottom of the 9th. Julio Lugo led off with a single. On a hit-and-run, Lugo was able to get to second on a grounder to shortstop by Dustin Pedroia. It was time for K-Rod. He quickly got the second out by striking out Kevin Youkilis. With 2 outs and the winning run on second, Mike Scoscia decided to walk David Ortiz for the fourth time in the game. It was left to a battle between Rodriquez and Manny. After a first-pitch curve for a ball, K-Rod reached back and chucked a fastball…right down the middle. Manny hit it out of the stadium and onto the Massachusetts Turnpike. He Lidge'd K-Rod.
So every series is now 2-0. I only hope at least one of them reaches a Game 5.
Now for more A-Rod material.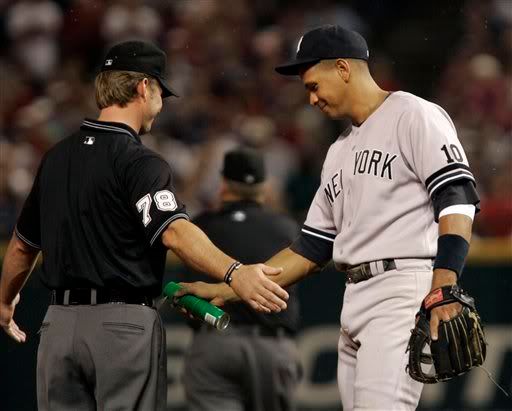 Related posts: