Muse Has Truly Arrived in America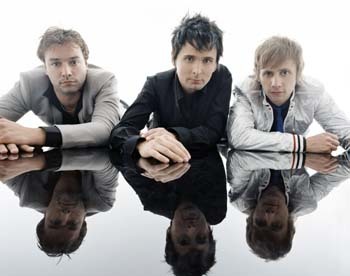 Ever since Absolution was released in America, I think Muse has been gaining popularity pretty quickly. They're certifiable rock stars in the UK and Europe as a whole, with Black Holes and Revelations going double-platinum over there, but over here in America, they're just not quite as huge. BH&R opened at 9th on the charts and has sold 300,000 copies in the US, which is decent, but nothing spectacular. Yet surprisingly enough, most people that I come in contact in real-life seem to like them. But the same people aren't going to go out and actually buy the album any time soon either, unfortunately.
Their mixture of Radiohead and Queen makes for an awesome combination and their live shows match up to both of those bands as well, winning more than a few "Best Live Act" awards over in Europe. But like I said, they're not nearly as huge here in America, instead relegated to the very edge of super-stardom with a legion of loyal fans. They had to open up for My Chemical Romance on their tour together, which is in my opinion an utter farce.
The fact that they're headlining their own show on August 6th at Madison Square Garden means that they might have finally hit the big time here in the US. The Garden is reserved for the biggest acts, and I think Muse will fit the bill perfectly. Their live show is bombastic, epic, and just plain awesome. I already got my presale tickets yesterday morning. I could've gotten better tickets if I didn't screw up while ordering, but what are you going to do? (I'm not really that nonchalant about it – I'm pretty pissed I fucked up.) Nevertheless, any regrets will fade away in three months when I experience what is sure to be a landmark concert for the band, and for my life. Muse seems to step up their game on the biggest stages (proof shown below), and they don't come much bigger in America. I can't wait.
Related posts: