Donald Trump vs. Rosie O'Donnell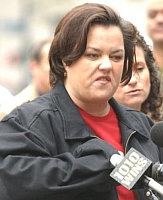 Apparently, these two have kicked off one of the greatest celebrity feuds I've ever seen.
http://www.youtube.com/watch?v=7gT9Pa9d90M
And I have never seen someone just come out and complete destroy someone with schoolyard insults like Donald Trump does in this video, holy crap.
http://www.youtube.com/watch?v=xGZaCnfNgLE
I don't know what else I can say on the matter. I really don't like either person. Trump is a pompous asshole who is probably not worth "billions of dollars" like he says, but damn, that was brutal. He is such a cocky bastard, and it's awesome. I wonder if Rosie is sitting at home crying into a vat of ice cream right now. Rosie seems like a fake, as most TV personalities are, so I don't mind seeing her get completely owned. Oh well, at least the rest of America gets some damn good entertainment out of this feud.
Related posts: