Muse Rocks The Shit Out of MSG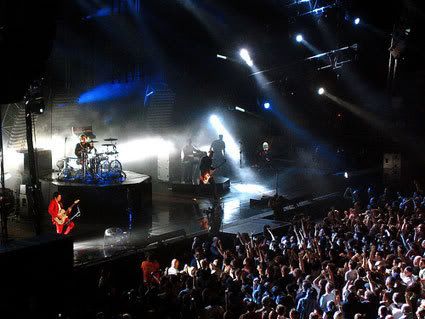 On August 6th, 2007, Muse announced their stardom in America. With only one gold record in the states (Absolution), they managed to basically sell out Madison Square Garden, "The World's Most Famous Arena." Not only that, but they rocked it out as well, if not better, than any other band in the world could. Their cross of Radiohead and Queen makes for an unbelievable live show, something I already knew, but had never experienced first-hand – until a week ago.
The opening band was Cold War Kids, a band whose unimpressive album I had listened to a couple of times, yet that's more than any of my friends could say. As a result, I spent the entirety of their set with two of my buddies drinking ridiculously overpriced beers and checking out ridiculously hot box. Unfortunately, every attractive chick was tied to some sausage. Right at the moment I said we should head inside along with our final beers, a massive roar erupted from the crowd, signaling the arrival of the English blokes (complete with tour keyboardist!). I obviously have some sort of spiritual connection with Matt Bellamy, the singer, guitarist, pianist, and songwriter for Muse.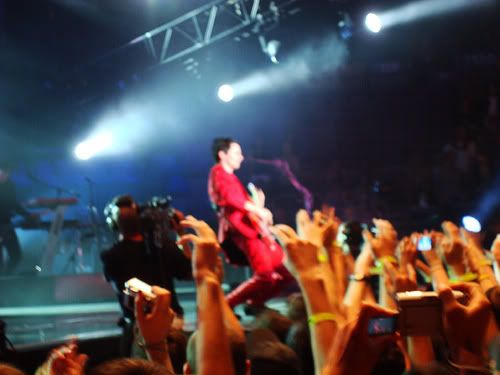 After some bullshit excerpt from a JFK speech, Muse kicked into Knights of Cydonia, their best Queen impression. Maybe because it was the first song, maybe because I was at the height of my buzz – either way, it rocked the stadium to the fucking ground. That riff that kicks in halfway through started the headbanging from which I suffered headaches for several days. But I knew they would open with KoC…what I didn't know is that they would follow it up with Map of the Problematique, Hysteria, Supermassive Black Hole, City of Delusion, and Butterflies and Hurricanes. Most bands don't have 6 songs that incredible in an entire concert – Muse stuffed them all in the beginning back-to-back. MotP and Hysteria are just as awesome live as they are on their album forms, but Supermassive is about 5x better live. The riff is just so damn cool, and Bellamy switches up the solo in every concert. That song probably was responsible for some of the hot chicks at the concert.
When Bellamy was handed an acoustic guitar, I should've realized City of Delusion was next…but that ludicrous thought didn't have a chance to enter my mind before he started playing it. I couldn't believe what I was witnessing. They even had some dude come out and play the trumpet solo and everything. And then they played Butterflies and Hurricanes. The six-pack of unexplainable awesomeness was complete. The added solo in front of the classical piano solo, the epicness of the music and lyrics…the concert could've ended there and I would've been happy.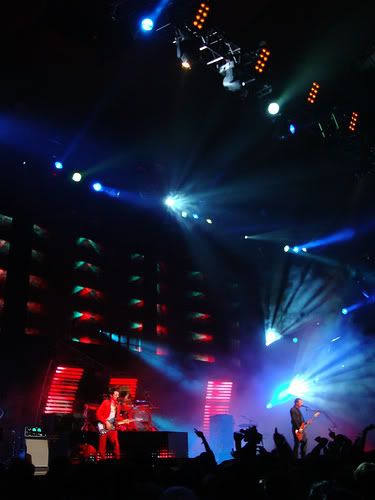 But it didn't. Hoodoo came next, which allowed for the brief reprieve needed until it blows up right before the end. Apocalypse Please, Feeling Good, and Sunburn continued the trend of piano-based songs. They provided a nice block of songs to contrast with the ridiculousness of the opening of the set. My friend Chris particularly liked Bellamy singing into a megaphone during Feeling Good, something I don't agree with. Sunburn was incredible, though.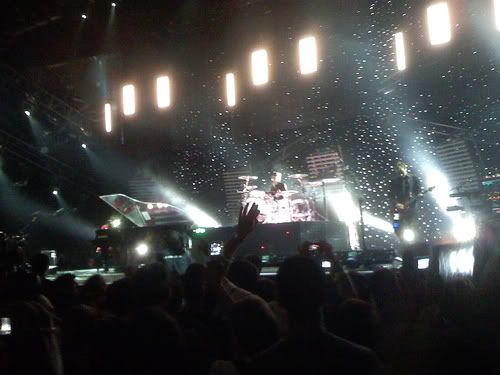 At this point, the beer was really piling up in my bladder, so I was glad when the intro to Invincible started up. I knew they were going to play it, and I knew I don't really like it, so I made the necessary run to the bathroom. I still made it back in time for pretty much the entire song though. I just wish it was Citizen Erased instead; the only real qualm I have with the concert – other than the fact that I didn't get free GA tickets.
Starlight was a necessary evil for all the girls and couples out there. The song is decent enough, but at this point my buzz was wearing off and I wanted Bellamy to start rocking out again. Thankfully, Time is Running Out was next, a song that everyone knew and Bellamy let the crowd sing the first "Our time is running out" - a very cool moment. He then followed it up with the only two songs from Origin of Symmetry that they played that night: New Born and Plug In Baby. They rocked the stadium to the ground. Both of those riffs are absolutely killer. And I'm pretty sure they added one of their lone guitar riffs at this point (they had a few), as it was the faux end to the concert.
Of course, we all knew the concert wasn't over and everyone got their cell phones out.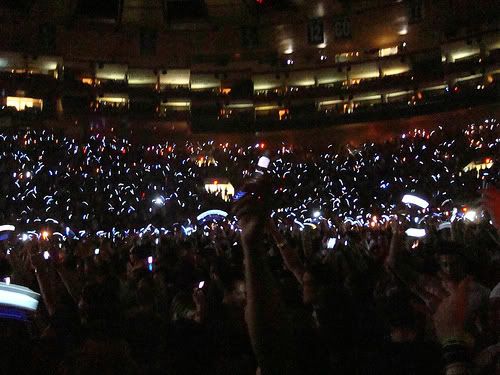 At this point I realized just how packed the stadium was. It was one of the coolest things ever. Muse had conquered Madison Square Garden. But after conquering, you have to take advantage of the spoils. As with almost every encore, they played some soft songs to wrap up the night: Soldier's Poem and Unintended, the latter of which they had never played in the states before. Pretty cool.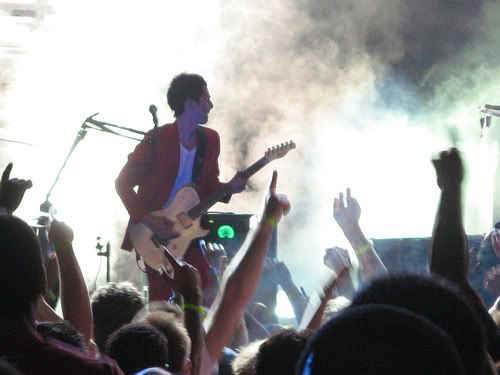 But it wouldn't be a Muse concert without Stockholm Syndrome. Bellamy singing as loudly as he possibly can while blasting the most brutal riff imaginable through the stadium. The entire crowd was rocking and singing and oh God it was awesome. Some kid even managed to make he way onto the stage and lifted his arms up in victory while he jumped up and down. Awesome.
I knew their last song would be Take A Bow, a practice that I felt was anti-climatic until I witnessed it live. Sure, it takes a few minutes to build up, but when Bellamy hit that first chord, I think the roof of MSG blew off. BURNNNN YOU WILL BURRNNN YOU WILL BURRRRNNN IN HELLL YEAAHHH YOU'LL BURNNN IN HELLL YOU'LLL BURNNN IN HELLL YEA YOU'LLL BURRNNN IN HELL FOR YOUR SIIIINNNNSSSS *awesome outro* Even with the alcohol all but evacuated from my body, I was still higher than I've ever been in my 21 year life. I had witnessed one of the greatest concerts I will ever see in my life.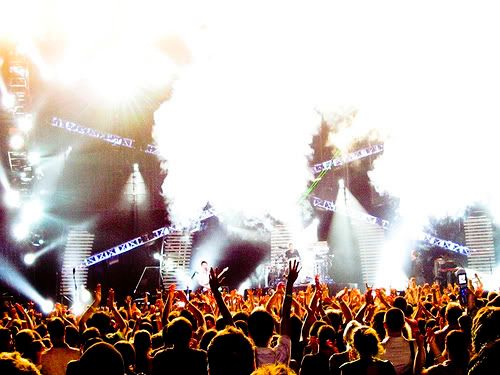 Thank you, Muse.
Related posts: